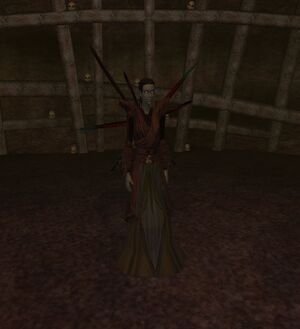 The Nightsister Vendor is the vendor that the player can use to purchase various goods in exchange for the items they've obtained from quests and collections.
They can be found inside the Nightsister Stronghold on Dathomir.
/way dathomir -4119 -176 Nightsister Vendor;

The Nightsister Vendor does not accept credits. You may only purchase items from them in exchange for:
The costs of the various items is shown below.
Items Available:
[
]
Nightsister Dyed Foot Wraps

[

]
6 Spider Silk
4 Whuffa Leather
Nightsister Vibrant Dread Shroud

[

]
6 Spider Silk
4 Whuffa Leather
Nightsister Pestilence Leggings

[

]
6 Spider Silk
4 Whuffa Leather
Nightsister Scourge Leggings

[

]
6 Spider Silk
4 Whuffa Leather
Nightsister Gruesome Wrap

[

]
6 Spider Silk
4 Whuffa Leather
Nightsister Battle Mantle

[

]
6 Spider Silk
4 Whuffa Leather
Nightsister Havoc Habit

[

]
6 Spider Silk
4 Whuffa Leather
Nightsister Aerie Stalker Hood

[

]
6 Spider Silk
2 Rancor Teeth
4 Whuffa Leather
Nightsister Tarnished Shroud

[

]
6 Spider Silk
2 Rancor Teeth
4 Whuffa Leather
2 Spider Silk
5 Rare Dried Herbs
2 Dathomir Amber
5 Rare Dried Herbs
2 Rancor Teeth
5 Dried Herbs
2 Whuffa Leather
5 Rare Dried Herbs
Schematic: Hanging Banner: The Maiden

[

]
5 Spider Silk
2 Rancor Teeth
2 Whuffa Leather
Schematic: Hanging Banner: The Mother

[

]
5 Spider Silk
2 Rancor Teeth
2 Whuffa Leather
Schematic: Hanging Banner: The Crone

[

]
5 Spider Silk
2 Rancor Teeth
2 Whuffa Leather
Schematic: Nightsisters Tower

[

]
5 Dathomir Amber
4 Rancor Teeth
4 Whuffa Leather
Schematic: Nightsister-Style Gate

[

]
5 Dathomir Amber
4 Rancor Teeth
4 Whuffa Leather
5 Dathomir Amber
5 Spider Silk
20 Rancor Teeth
5 Whuffa Leather
5 Rare Dried Herbs
5 Dathomir Amber
5 Spider Silk
20 Rancor Teeth
5 Whuffa Leather
5 Rare Dried Herbs
5 Dathomir Amber
5 Spider Silk
20 Rancor Teeth
5 Whuffa Leather
5 Rare Dried Herbs
5 Dathomir Amber
5 Spider Silk
20 Rancor Teeth
5 Whuffa Leather
5 Rare Dried Herbs
5 Dathomir Amber
15 Spider Silk
5 Rancor Teeth
15 Whuffa Leather
5 Rare Dried Herbs
4 Spider Silk
4 Whuffa Leather
5 Dathomir Amber
3 Spider Silk
3 Rancor Teeth
9 Whuffa Leather
30 Rare Dried Herbs
6 Dathomir Amber
6 Spider Silk
6 Rancor Teeth
6 Whuffa Leather
6 Rare Dried Herbs
6 Dathomir Amber
6 Spider Silk
6 Rancor Teeth
6 Whuffa Leather
6 Rare Dried Herbs
20 Dathomir Amber
5 Spider Silk
20 Rancor Teeth
10 Whuffa Leather
5 Rare Dried Herbs